The Achilles tendon is tremendously strong, connecting the muscles in the lower legs with those in the heel, thus enabling walking and running. Without the ability of this tendon to deal with massive pressure, sometimes several times the weight of the body, humans will not be able to walk, run or jump. When the tendon becomes inflamed and irritated, Achilles tendonitis can develop, causing sufferers a great deal of discomfort and foot pain.
How Does the Condition Come About?
Many people that partake in vigorous sports activities fail to stretch their muscles prior to taxing physical activities, and therefore place the tendon under an unacceptable amount of pressure. Sports that require a lot of jumping, such as basketball for example, are one of the most common causes of the condition with younger people. Inflammation that leads to this condition can quickly develop in cases of physical injury to the ankle, calf or lower leg. Sometimes new bone grows at the base of the heel and this growth may prove to be an irritant to the tendon, eventually leading to Achilles tendonitis in older people.
What are the Main Indicators of the Condition?
One of the surest indicators of Achilles tendonitis is severe foot pain or pain behind the heel. The pain is not always acute, but almost all patients experience increased levels of pain when the muscles of the ankle, calf and foot have not been in use for some time. Most patients report tenderness and swelling in the area of the tendon, and jumping or pushing often result in sever, sudden pain. Standing on the toes is often excruciating.
What are the Options for Treatment?
There are several treatment options for Achilles tendonitis, ranging from shoe insoles to drastic surgical interventions. Rest is regarded as one of the most important treatment, and often specialists will go as far as to immobilize the foot to make sure that all the muscles rest. Lifting the heel by means of special shoe insoles can also help to relieve the pressure on the tendon. Ice packs that is often applied to the affected area helps to improve the blood flow, and this contributes to relieve the foot pain somewhat. Anti-inflammatory medication can contribute towards bringing the infection under control, and
shoe insoles
may also help to lessen the pain.
Physical therapy forms an important part of any treatment program, and patients have to build the strength and suppleness of their muscles with a specially designed exercise regime. Surgery is not readily undertaken, and most foot specialists prefer to first exhaust all other options. Most surgical procedures that aim to treat Achilles tendonitis concentrate upon the removal of a part of the tendon and subsequent lengthening of the remaining part.
Can One Do Something to Prevent it?
Most sportsmen know how important it is to avoid foot pain by completing a series of stretching and warming up exercises before they subject their bodies to the rigors of exercise. Strong muscles and tendons that are kept flexible with regular aerobic exercises are less likely to be injured.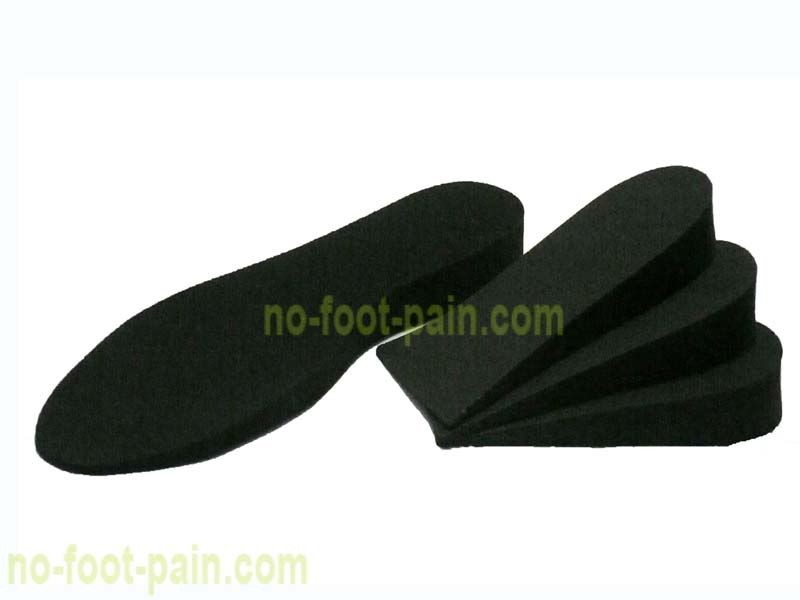 How To Define Heel Spurs?
A heel spur is a bony emergence typically identified beneath the heel area or calcaneus area. A heel bone (calcaneus) would be the most significant bone with the foot and takes on a big part in taking jolts and strain when we talk a walk. It could generate intense heel pain when going for walks, standing upright or perhaps as a result of a instant exercise like bouncing. Any time you put your weight on the heel bone, the pain sensation coming from a heel spur may be debilitating.
How Do Heel Spurs Build
Your plantar ligament is a fibre strip which works as the support base for the arch. It extends through the heel into the ball-of-the-foot region. Any time foot direction is weak, that tissues often pulls specifically where it hooks up to the heel area producing tiny-rips. Any time this takes place, calcium mineral stores develop and result in a nail-like mass. They grow from the calcaneus and force directly into the fleshy region on the foot. People that have high arches or flat feet are usually more vulnerable to getting heel spurs. This really is because of the pronation or supination which usually takes place as a result of the very poor dysfunctional shape the feet commonly acquire with these kinds of situations. Females may be more inclined than adult men to grow a heel spur as a result of her personal choice of shoes and boots.
So What Is The Most Effective Way To Help Remedy Heel Spurs
Non permanent cure for pain relief from heel spurs incorporate lifting the foot, downtime and implementing ice cubes to lessen puffiness. These kinds of treatment options unfortunately are simply non permanent and usually do not offer you a long lasting remedy.When flat feet or high arches happen to be creating the growth of a heel spur the podiatrician may possibly suggest heel pads or heel cups that may aid to spread your body weight a lot more consistently with impact and will support ones heel to further lessen the agony you might be encountering. Heel cups or pads may be combined with supports insoles (arch supports) taking strain clear of the problem location also. Regarding extra comfort, heel pads or heel cups could be employed. Your medical professional may possibly advise dropping any extra few pounds you might be hauling and also picking proper shoes or boots. Any time looking for shoes or boots, ensure you pick a pair which includes a shock absorbing sole that can help take up jolts, yet is dependable just enough to remain supportive and aid feet stance regulation.
In case these kinds of strategies tend not to offer pain relief, a shot of steroid drugs will help lower the swelling with the plantar fascia, or perhaps medical procedures to get rid of it is at times done. Having said that, several difficulties could arise with such strategies, consequently they may be employed as being a last resort. Far more conventional strategies including heel pads or heel cups are usually the remedy usually chosen. A modern treatment method which is at times beneficial is referred to as extracorporeal shock wave therapy (ESWT). It triggers tiny shock for the tissues all around the problem location. It is performed trying to activate a tissues maintenance progression from the human body's all-natural health. Together with the far more ambitious kinds of heel spur remedy including surgical procedure, injection therapy, or ESWT it really is essential that any sort of biomechanical difficulties that can induce the heel spur to come back are taken care of using
heel pads
or heel cups.